30th May – 1st June 2008
Chomutov, Czech Republic
News
EUROWAVES 2012 - cancellation - February 20, 2012
Dear swim friends,
We announce you with high regret that due to the ongoing suspension of Czech NPC from IPC we had to cancel the EUROWAVES meeting. It is not clear if the Czech NPC succeed till April to correct its position towards IPC and when the suspension will persist at this time, it would not be possible to have IPC Swimming Approval, International Classification and all the other benefits which are important for participation of your athletes.
We do not want to invite you here in Czech Republic with the risk that it can happened that it will not be the full IPC Swimming Competition with results included into the world ranking.
We are very sorry for that, it is sad especially for us because we believed that we will restore again after three years the good tradition of the meet.
Kind regards and hopefully see you in Prague in 2013!

Jan and Radka
KONTAKT bB
Jan Nevrkla, Chairman, M:+420 606 637 097
Radka Kucirkova, Vice-Chairman, M: +420 602 179 011

January 19, 2010
:
EUROWAVES 2007 video
published on YouTube.
June 6, 2009
:
Results
(3rd Session) published
June 6, 2009
:
Photogallery
published, updated
June 6, 2009
:
Results
(2nd Session) published, updated (1st Session)
May 26, 2009
: Published
Classification Schedule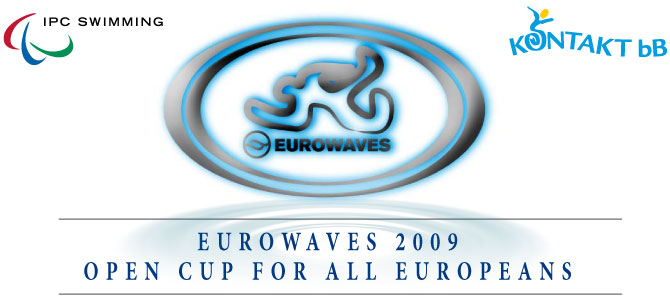 Motto: Spirit above Waves
5th - 7th June 2009, Czech Republic, Chomutov
6th Year of Paralympic Swimming Competition
Sanctioned by IPC Swimming
Open to all IPC members and all relevant national organisations and sport clubs
Te only one opportunity to meet foreign elite swimmers in the Czech Republic


Sanctioned by the City of Chomutov Mayor Ing. Mgr. Ivana Rapkova
• Approved by IPC Swimming
• Open to all IPC members and all relevant national organisations and sport clubs
• IPC Swimming authorised FCS Classification will be held
• Results will be included into the IPC Swimming Rankings
• Classification Course will be held
• Reasonable prices, traditional hospitality and friendly atmosphere

General partner of the meet